Now that crop circle season is over, here are some treats to tide circle lovers over the downtime.
Rob Mekes, who makes beautiful art out of the circle designs, has turned his hand to video:
Now that I have you in my spell, do buy the newest and to my taste the best book about the circles .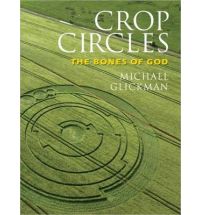 Here's the description on Amazon (buy it through my link and I get a little portion):
Crop Circles: The Bones of God, by Michael Glickman, is unique among books on this modern enigma in that it combines the author's firsthand field encounters with some of the most famous crop-circle formations with intricate and dazzling analyses of the structure and content of those formations. This beautifully illustrated mix of personal narrative with detailed study informs a larger discussion of the role of crop circles in the modern world and their unprecedented promise of new chapters in the history of consciousness.
Michael, who is in my movie, is a gifted writer as well as being a master geometer, who will entertain you as he dazzles you with insights into what the circlemakers were up to in making each design.
Here are some subject lines of the reviews on Amazon – 6 are five star and 2 are four star:
My only complaint is that the book wasn't at least four times longer
Glickman has delivered a most wonderful book!
What a Beautifully Written Book
Mind-Bending
This review captures the essence of the book:
Mr. Glickman's special gift in regard to the Crop Circle phenomenon is his willingness to let his love affair with the circlemakers shine forth for all to see. I believe that for whatever reason Mr. Glickman has a special and unique relationship to the entire phenomenon. To me the book is not a third-hand account of a paranormal phenomenon. It is about a man's special relationship with a special phenomenon. Step by step chronologically Mr. Glickman walks us through the journey he has taken in trying to decipher the messages…we begin to see a pattern of an ongoing playful interaction between a force beyond our comprehension and a man very much within it. Perhaps there are chosen prophets, after all….