I'm the lead-off speaker for COSMIC REUNION 2012, a high-minded event "to assist in the awakening process," on Thanksgiving weekend in Los Angeles. I'm glad to be first so I can set the context of the need for new worldview, and so I can encourage interaction among attendees. (Do you have suggestions for questions they can ask each other? Maybe I can instigate new questions being posed for time periods throughout the weekend, to help people have meaningful exchanges.)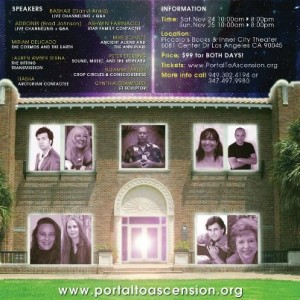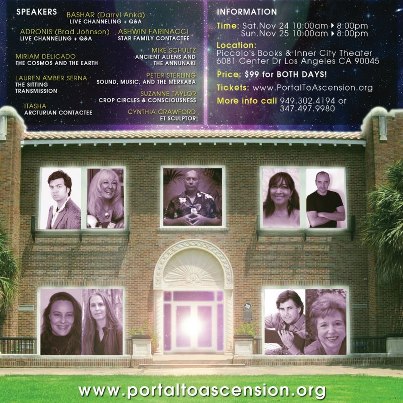 Here's what's on the event site about me and my talk:
Suzanne Taylor, Producer/Director of What On Earth? Inside the Crop Circle Mystery (http://CropCircleMovie.com), has been involved with films since she graduated Phi Beta Kappa and summa cum laude from NYU. Having been an actress (http://imdb.com/name/nm0853220), she crossed over to the other side of the camera as the Executive Producer of the 2002 feature documentary, CROP CIRCLES: Quest for Truth. The new film, which was well-reviewed in The New York Times, won the Award for Best Feature Documentary at the UFO Congress Film Festival, where the first film got the Audience Award. What On Earth? also got the award for Excellence in Paranormal Filmmaking from the Paranormal Symposium and Film Festival, and it just had its TV premiere on CPT12, a Colorado PBS station. Suzanne is a crop circle authority on the Ancient Aliens television series on the History Channel. Recently she got a license to produce a TEDx West Hollywood event, and Making the Quantum Leap, or, Brother Can You Spare a Paradigm is in the planning stages.
As the founder of Mighty Companions, a non-profit dedicated to consciousness expansion, her Los Angeles home is a gathering place for forward-thinking activists. A fine arts post-impressionist painter, Suzanne had a one woman show. She is an accomplished chef, and author of The Anybody Can Make It, Everybody Will Love It Cookbook. She writes a blog, Making Sense of These Times (http://TheConversation.org), where posts about progressive ideas include considerations of how consciousness might evolve and how instrumental the crop circle phenomenon could be in that regard.
Topics:
A breakthrough in our collective consciousness, to where we come into a new worldview, is vital at this time in history. For the last few years I've mostly focused on the crop circle phenomenon as something that could bring that about. Being the "crop circle queen," however, is a subset of being the consciousness lady.
I'll talk about my colorful path through Hollywood as a queen of commercials, married to a multiple Emmy winning TV writer/producer/director. And then on to my immersion in the world of transformation and consciousness, and providing a gathering place in Los Angeles for forward thinking activists who want to make this a better world.
As I was producing events and projects to open people's minds about what is outside the box of ordinary reality, it became my mission to inform the world about the circle phenomenon. Now, I am at the beginning of what I've written up as my new "Vital Mission" (http://theconversation.org/blog/vital-mission-will-you-join-me.org). My presentation will include an invitation to think together about what we could do. What moves could be made, for instance, to create a dialogue that could seed possibilities for humanity to shift its worldview?
We need to go from the outdated worldview we hold now, based on Newtonian physics of cause and effect, to what would be supported by science, which has moved on to validate us being in a quantum reality. Beyond space and time, we are interdependent and interconnected, and, if we understood our oneness has been established by science, it would impact the picture we hold and the story we tell of who we are and what we are doing here.