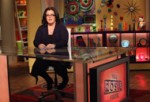 You can listen to Rosie O'Donnell talking about crop circles on two of her recent radio shows, on Sirius:
The first time was for 14 minutes, after she saw What On Earth?  It's the second link
The second time, I was on the show with her. It's the third link. You won't hear what's minutes remaining in the show after that, when she continued to talk to her sidekicks and callers about the circles. I loved it cause however skeptical anyone was, she said they would change their minds if they saw the movie!
There's a possibility that I'll take Rosie to England with me this summer. And am looking forward to her new talk show on Oprah's network, OWN — she said she wanted me to come on it!
Love to have your thoughts about this development. Leave them in the Comment box here and I'll share them with Rosie.